$60
or 600코인
수강등록하기


비디오강의는 등록후 6개월동안 다시보기 가능합니다. (라이브수강자는 1개월 다시보기 가능합니다.)
강의날짜
06/28/2023 12:50PM (Pacific Time)
장소
Distance Learning / Online Program

가격정보
실버 (무료회원): $60.00
MS (유료회원): $20.00
골드 (유료회원): $20.00
캐나다협회 (MOU): $20.00
SBU동문회 (NO-CEU): $60.00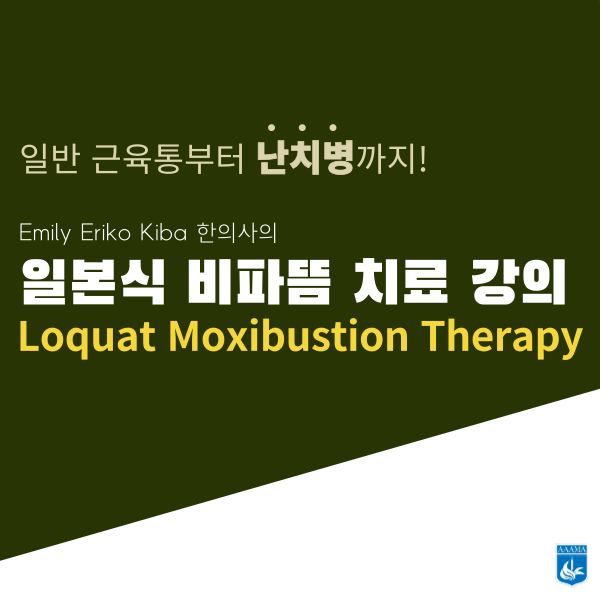 Curriculum
Distance Learning / Online Program

CA: 없음, NCCAOM: 없음

2분 미리보기 (100min)
Class Description
Loquat Moxibustion Therapy
• History
• The original way of loquat moxibustion
• Western research – amygdalin and it effective ness
• Modern day use and the effective ness of loquat moxibustion
• Types of Loquat moxibustion
• How to use the loquat moxibustion tool
• Cases and experiences and its effectiveness
• Hands on practice
• Q & A
Instructor
Emily Eriko Kiba
She incorporates a unique style, KAN (Korean Acupuncture Nei Jing )style, in her acupuncture practice to balance Yin and Yang, which is the root of all of your symptoms. She also combines the treatment with cupping, loquat moxibustion, and/or herbal medicine as needed.

Emily got really inspired into Eastern Medicine especially when she was working for a company in Japan treating people with Loquat Moxibustion and how effective it was on some difficult diseases and thought one day she would like to come to the US to introduce this therapy to help people regain their optimal health. It is a heat therapy from over 2,000 years ago originated from Ayurveda and is very effective in boosting energy and immune system, promote blood and qi circulation, alleviates pains and muscle stiffness, digestive issues, fertility issues, skin issues, etc.

Emily has also studied Dermatology under Mazin Alhafaji and am a member of the International TCM Dermatology Association. She is qualified to treat patients with skin issues with acupuncture and herbal medicine. She likes to combine the treatment with Loquat Moxibustion, which is very effective for skin related issues.

Emily has also studied Holistic Nutrition at the American College of Holistic Nutrition and Macrobiotic diet and gives nutritional advice to her patients. She treats patients from all ages, from O onwards.
Donation to AAAMA
미국한의사협회
Your donation is applicable for IRS tax credit. Your donation will help AAAMA to continue to deliver education, train, and support Eastern medicine professionals who empower volunteers to meet the healthcare needs and well-being of the community. American Acupuncture & Alternative Medicine Association Services is a 501(c) (3) tax-exempt nonprofit organization. Your donation is applicable for IRS tax credit. Our tax-exempt number is # 82-4100571
Donation